Next
Prev
PR-S BAHRAIN VICTORIOUS MEN SHORT SLEEVE JERSEY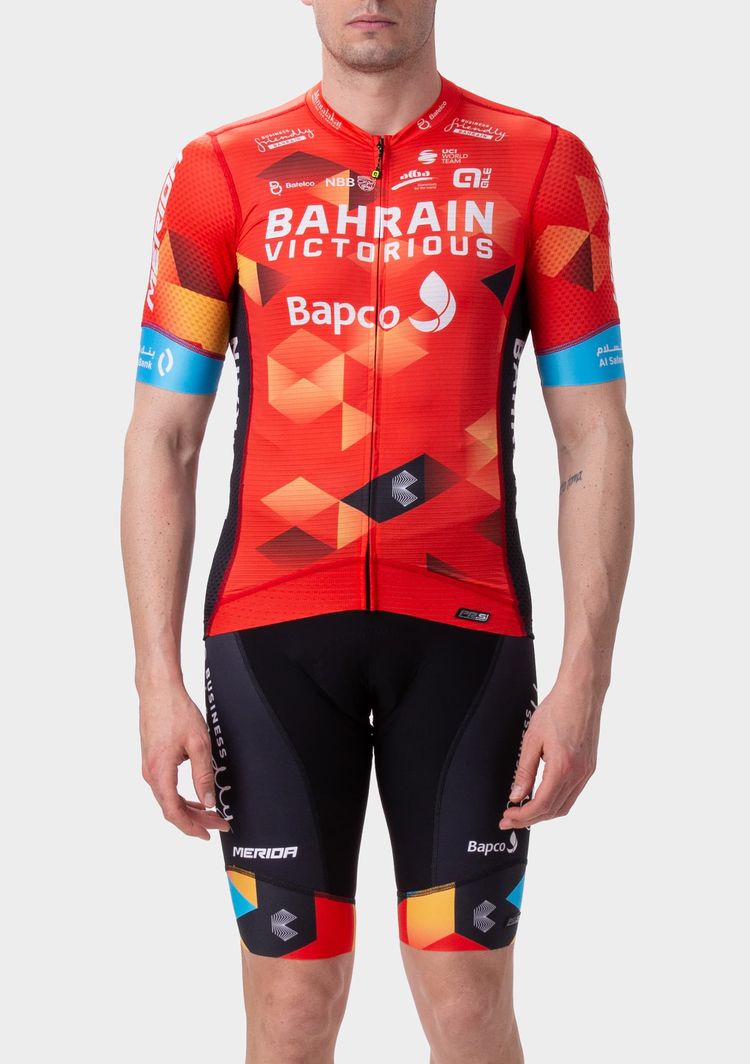 $96.00 $159.99
Please note, our garments follow an Italian and race-cut fit.
We recommend sizing up. Your size may also vary according to your personal preferences.
Final sale: this item cannot be returned
PR-S BAHRAIN VICTORIOUS MEN SHORT SLEEVE JERSEY
$96.00 $159.99
Micro aero
Rap dry carbon
Piuma
Body mapping
Silicone waist
J-stability system
Reflective details
Raw-cut finish
S-stability system
Three rear pockets
Main fabric
90% polyester, 10% elastane
Back
90% polyester, 6%elastane, 4% other fibers
Sleeve/side/undersleeve
96% polyester, 4% elastane
Arm band
87% polyester, 13% elastane
coating: 100% silicone
Representing the real-deal of pro cycling, this flagship PRS jersey has been created in collaboration with Team Bahrain Victorious to achieve the ultimate aerodynamics through informed research into elite riding positions. When races are won and lost by a fraction of a second, every detail has a purpose. Alé's Body Mapping technology denotes the specific positioning and shaped pattern of each fabric panel so that this jersey fits like a second skin. The considered construction, featuring the anti-static Rap Dry Carbon with interwoven carbon yarns alongside the ultra-lightweight Micro Aero fabric, allows air to move easily and the jersey to dry rapidly, while the mesh Piuma deployed on the arms and torso sides regulates temperature through exceptional breathability, resulting in a piece of first-class comfort weighing just 115 grams. To meet race-day requirements, the jersey is constructed with our signature J-Stability System at the front to ensure it stays firmly in place throughout your effort. Meticulously designed set-in sleeves provide further aerodynamic advantages, ending in a raw-cut finish with our lightweight S-Stability System silicone grippers. Built into the back of the jersey, there is strategically placed silicone with stretch to retain an impeccable fit over your shorts. The design is rounded off with reflective details on the rear.